MAY 5 • RAIN OR SHINE • 21+ ONLY
THE ORIGINAL
Denver Derby Party
OFTEN IMITATED, NEVER REPLICATED – The Original Denver Derby Party, now in its 17th year, is the biggest of its kind outside Kentucky. Held annually on the first Saturday in May, and spread out over 4 blocks in Downtown Denver, it has become a Colorado tradition. 100% of all ticket proceeds benefit the Sean Ranch Lough-Foundation, which provides 4 year college scholarships to underprivileged students. Thanks in large part to the support of our patrons, the SRL Foundation has given 55 students the chance to attend college without financial burden!
SOLD OUT!
A Special Thanks to Our Premiere Sponsors!
We appreciate all our sponsors – but these companies have gone above an beyond to help us make DerbyParty successful .
Here are a few of our favorite shots from years past. You can see all 3000+ photos we have by visiting our Photo Gallery.
We definitely have the best dressed and most stylish crowd each and every year, in fact we think DerbyParty is the best looking crowd we've ever seen anywhere. Check out all the photos and we think you'll agree.
Interested in sponsoring DerbyParty?
Most sponsors renew each year but we still have several Platinum & Premiere Level openings, and 1 Luxury Infield Tent available.
Contact us today for more information.
Denver DerbyParty 2018 Tickets – SOLD OUT – JOIN WAITLIST
DON'T GET STUCK IN A CRAMPED BAR OR A STUFFY RESTAURANT WHERE YOU HAVE TO PAY FOR DRINKS AND FOOD
– ENJOY AN ALL-INCLUSIVE INDOOR & OUTDOOR EXPERIENCE –
The 2018 Denver Derby Party will again be located in Downtown Denver, spread out over 4 city blocks at the Denver Performing Arts Complex.
Tickets are ALL INCLUSIVE and cover admission, entertainment, food, and all-you-can-drink.
Infield & Galleria
$

150

SOLD OUT
TICKET IS ALL INCLUSIVE
Entry to DerbyParty 2018, presented by Makers Mark
Mint Juleps, Beer, Wine, Champagne, Soda, Water
Food from over 18 restaurants and caterers
Access to Infield tents and main stage
Galleria & Indoor access
Infield Jumbotrons + 40 Tvs
Entrance on 14th & Curtis St
JOIN WAITLIST
Ticket prices do not include credit card processing and service fees.
Jockey Club
$

300

SOLD OUT
TICKET IS ALL INCLUSIVE
Express No-Wait entry to event
All beverages + special Derby Cocktails and spirits
VIP Catering and upgraded food options
Exclusive Jockey Club lounges and seating
Jockey Club indoor access with upgraded washrooms
Access to all TVs and New JumboTron
EXPRESS entrance on 14th & Curtis St
JOIN WAITLIST
Ticket prices do not include credit card processing and service fees.
What do tickets include?
Tickets are all-inclusive. They include entry into the event and all food, drink, entertainment, etc.. We suggest bringing some cash to tip the bartenders or staff if they go beyond expectations.
Can I get a refund?
All tickets are non-refundable. All proceeds from ticket sales are deposited directly into our Foundation account at Colorado State University, which funds our scholarships.
Are there any discounts?
As this is a fundraising event we do not generally offer any discounts. If you have a large group you may contact us for group pricing or limited table space. We offer a discount to members of the armed forces. We do not offer any media passes.
I lost my ticket!
In most cases this is no problem. As long as you provided your name and email when your purchased tickets, we shoudl be able to help. Please email us.
This is what it's all about
100% Proceeds Benefit Sean 'Ranch' Lough Memorial Scholarship
Sean Lough (AKA 'Ranch') was a dear friend, brother and son who tragically passed away in 2001 as a result of a mountain biking accident. The scholarship given in his name helps an individual exemplifying the qualities Ranch had, including a high GPA, an economic need and most of all a hearty personality and a love for life.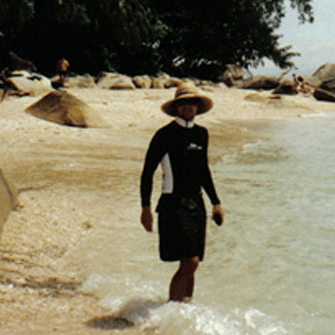 Your Patronage Matters!
Check out these incredible stories, as told by each of our award recipients
While DerbyParty is definitely fun (even in the rain), the real reason for putting on this fund raiser is so young adults, like our scholarship recipients, get the education they so richly deserve. A BIG thank you to all our guests, our sponsors, and volunteers who supported this great cause, your donation helped make three dreams possible and forever changed lives.
We can't wait to see what the future holds for this year's recipients of the Sean 'Ranch' Lough Memorial Scholarship!
A Big THANK YOU to All Denver Derby Party 2018 Sponsors!
With sponsorship help we have been able to keep ticket prices the same for 8 years. They also contribute greatly to our Scholarship Foundation. Sponsorship is a great way to get involved and all sponsorships include tickets to the event. Interested in jumping on board?   CONTACT US