RAIN OR SHINE – MAY 6, 2023 • 21+
Denver Derby Party
GET HELP
Don't get caught unaware. Everything you need to know about DerbyParty is answered here. Search our most asked questions and find the answers, plus a long list of Dos and Don'ts to be sure you have a great time. If this list doesn't have the answer to your question please contact us and we'll do our best to get back to you asap.
What you can DO
and what we suggest you DON'T
DERBY DOs
DO make sure you have the TIXR App – you must be 21 to enter, no exceptions. Your tickets are in the TIXRs app or you can print out the PDF that came with your order.
DO be prepared for the weather – if it's going to be hot and sunny, bring sunscreen. If it might get a little chilly, bring a light jacket or sweater. FORECAST IS CURRENTLY MID 70s!
DO wear appropriate shoes – the majority of the outdoor area is uneven surfaces and spread out over a full city block and three levels. You'll be doing a lot of walking and dancing, go for comfort.
DO bring some cash – Your bartenders are working hard for you and will welcome your tips. You can also use Venmo in most places.
DO dress to impress – this might be one of the best-dressed crowds you'll ever see in Denver. Or anywhere else for that matter!
DO get a babysitter – for insurance purposes, no babies, toddlers or children are allowed – no exceptions. You must be 21+ to enter.
DO take public transportation – With numerous other outdoor events and limited parking in Denver over the weekend, taking public transportation is highly advised. Lyft, Uber, Light Rail or any other method will be your best bet.
DO use TIXR– All tickets were sent through TIXR Ask for a Host if you have any issues.
DO enter on 19th & Wynkoop – follow the signs for your entrance. You may ONLY enter at your ticketed entrance. All Jockey Club ticket holders should look for the express lane.
DO be patient – we will work as hard as possible to check tickets, pat down guests, and check IDs at the entrance. Lines will move quickly but be prepared for a short wait. We will have food and entertainment in line.
DO eat a hearty breakfast – we will provide lots of food, but a good breakfast helps everyone last the day. There are lots of restaurants within walking distance of DerbyParty, but we highly recommend reservations.
DO pace yourself – don't let the horse out of the gate too quickly. It's a long day full of fun and frivolity, we don't want you to miss any of it.
DO hang on to your stuff – we won't be responsible for any lost, stolen, or misplaced items. We will do our best to round up anything left behind or lying around after everyone has left, but can't make any promises.
DO be sure to circulate – DerbyParty has many tents, indoor areas, and lounges and they all have TVs with feeds to the main stage and Infield. And you just might find smaller lines!
DO remember this is a fundraiser – yes DerbyParty is fun as hell, but remember why we do this and please be courteous to guests, staff, and hosts.
DO get your photo taken – we will have our photographers at the media wall, and throughout the party, snapping photos of our guests. We will have them available for download after the event.
DO use social media – use the #DerbyParty and #DenverDerby liberally as we will be competing with the rest of the country for our event to be featured LIVE ON NBC later in the day! Twitter, Facebook & Instagram: @denverderby
DO seek medical attention if needed – we have several first aid stations throughout the event and roaming paramedics should the need arise.
DO leave when asked to do so – we have to clean up, pack up, and break down the entire event and we want to have some fun too. Please be courteous when leaving.
DO check out the main stage entertainment – we have a couple of top notch MCs, DJ Danger Foley, a band, Best Hat contest, our scholarship presentation, the big race, and then the dance party commences with DJ Erin Stereo!
DO HAVE FUN!
DERBY DONTs
DON'T forget to download TIXR – you must be 21 to enter and have the TIXR app or PDF with a bar-code.
DON'T drive home if you have been drinking – LYFT, UBER, RTD Light Rail, taxi, rickshaw, or walking are all better alternatives than trying to drive on this busy weekend.
DON'T leave and try to come back – we have a strict no-re-entry policy. And, really, why would you want to leave before the music ends?
DON'T bring any outside food or drink – we have more than enough beverages and plenty of food for everyone. You will be searched at the entrance and any food or drink will be thrown out. Anyone found with their own booze will be escorted from the premises immediately.
DON'T arrive at the venue visibly intoxicated – we reserve the right to refuse entry to anyone who is noticeably drunk at the gate.
DON'T try and buy a bottle from a bartender – both you and the bartender will be escorted out of the event immediately. Anyone found with a bottle in their possession will be ejected, no exceptions!
DON'T lose your wristband – this is the only way we know if you are a guest or not. This is a fundraiser and anyone without a wristband will be assumed to have not paid to enter and will be escorted out and possibly ticketed for trespassing.
DON'T overindulge – we retain the right to stop serving and/or eject anyone who becomes noticeably intoxicated or belligerent. This right is left to the discretion of our security team and the Denver Police Department.
DON'T bring a camera – or at least don't bring one that won't fit into your pocket. Better yet, just use your phone. We will have plenty of photographers and videographers throughout the party and will provide links to download photos this year at no cost.
DON'T arrive early – gates open promptly at 1:00. We will allow people to line up prior to the event but do not expect to get in until 1:00.
DON'T worry about the weather – the reason why we don't sell more tickets is to be sure that, in case of inclement weather, we can accommodate everyone comfortably indoors. DerbyParty happens rain or shine and is a blast no matter what the weather. FORECAST IS CURRENTLY MID 70s!
DON'T bring portable seating – we have lots of places to sit and we bet you'll be dancing most of the day anyway.
DON'T bring large bags or backpacks – we will have everything you need for the day in the event, and it's all free. Anyone with a large bag, oversized purse, or backpack will be asked to leave it at our coat check or take it back to their vehicle or hotel room.
DON'T bring your children – for insurance purposes, we cannot allow ANYONE below the age of 21 into the event. Hire a babysitter and enjoy a day kid-free!
DON'T try to get on stage – only our staff, entertainers and Hat Contest contestants will be allowed on stage for insurance reasons.
DON'T miss the Scholarship presentation – it's the reason we do this and where 100% of your money goes. It's truly rewarding to see how your attendance touches the lives of those less fortunate.
DON'T forget to drink some water too – we will have lots of water throughout the event and encourage everyone to stay hydrated.
DON'T stay in one place – we have lots going on both indoors and out.
DON'T wear spiky high heels – yes those strapy glitery stilettos look phenomenal, but you'll thank us Sunday if you wear something more comfortable and less likely to sink into cracks. Wedges are a great alternative.
DON'T FORGET TO HAVE FUN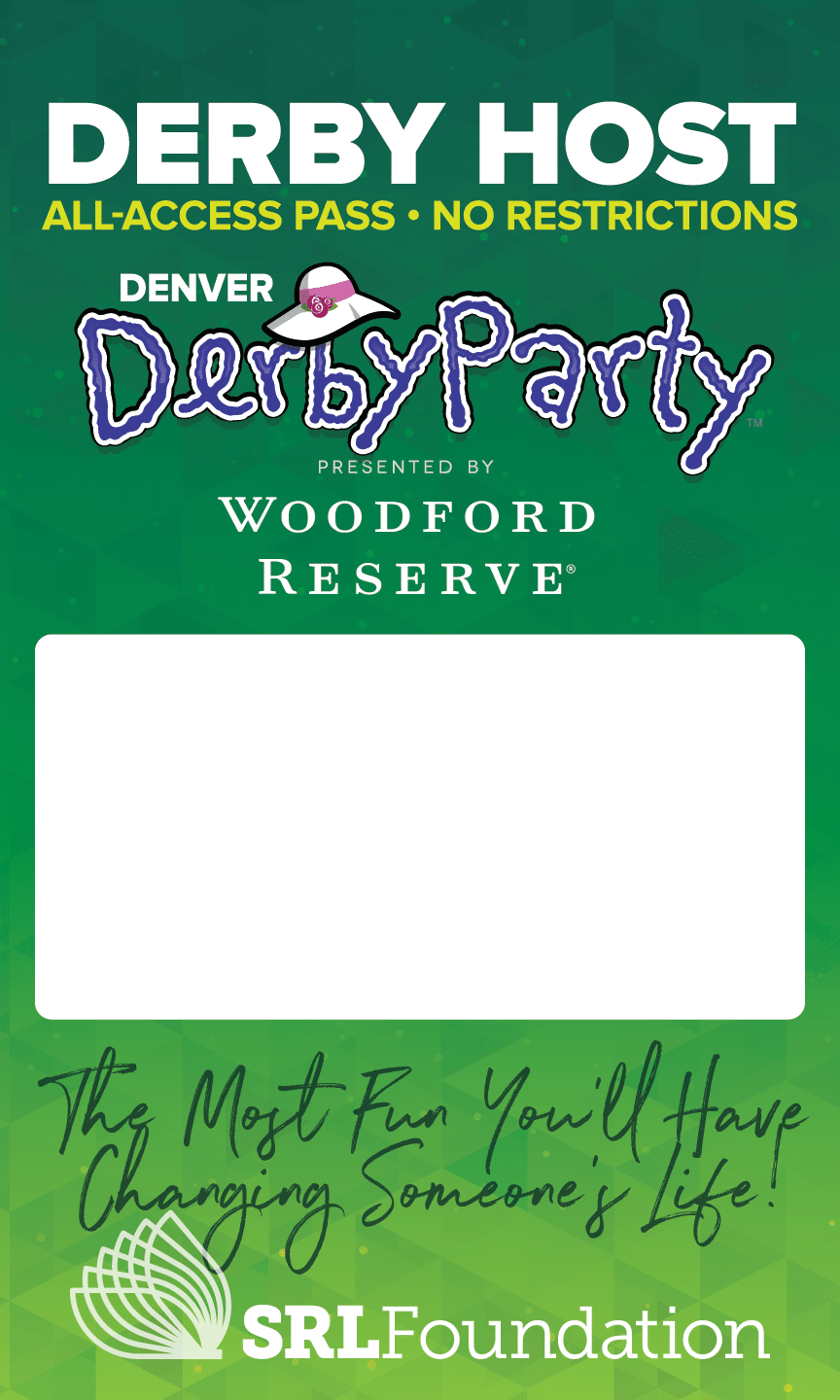 Need help on DerbyDay?
If you are in need of assistance, have a question, or an issue arises please seek out one our Derby Hosts. They will have special lanyards and can help answer any questions. If there's trouble, or you need assistance with something urgent, please see one of our security members or a member of the Denver Police Department.
We sure do! Located near the main entrance we have a fully staffed coat check where you can leave just about anything you want. Just be sure you pick it up on the way out.
WE WILL CHECK: Coats, Sport Coats, Jackets, Sweaters, Shoes (while space lasts).
WE WILL NOT CHECK: No electronic devices, cameras, cell phones, backpacks, sunglasses, jewelry, watches, large totes, car keys.
If you leave something behind or lose something you can try calling the Buell Theater on Monday. Anything we find will be turned into them but we do not manage any type of formal lost & found. Hang on to your stuff!
No. You will be searched upon entry and anyone with alcohol or food will be asked to throw it out before entering.